Xenith X2E Varsity Football Helmet with Mask - 5 Star Rated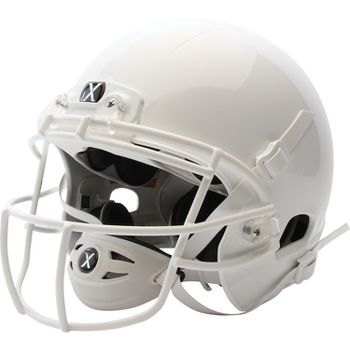 Xenith X2E Varsity Football Helmet with Mask - 5 Star Rated



Xenith X2E Varsity Football Helmet with Mask Xeniths X2E Varsity Football Helmet utilizes optimized shock absorbers that are specifically tuned for each location in the helmet and maximize the space for enhanced performance. The X2E also features
more...
This Product is shipped from the manufacturer.
Shipping charge: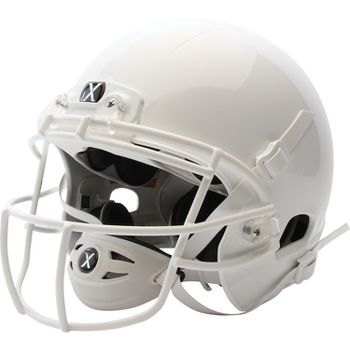 Description
Size Guide Video
Xenith
Xenith X2E Varsity Football Helmet with Mask
Xenith's X2E Varsity Football Helmet utilizes optimized shock absorbers that are specifically tuned for each location in the helmet and maximize the space for enhanced performance. The X2E also features new comfort pads made of waterproof TPU, designed to be more comfortable, durable, easier to clean and more hygienic.
To keep the helmet secure during an impact Xenith's Fit Seeker® system adapts to the head, providing a custom fit with no pumps needed. As the player pulls on the chinstraps, the Shock Bonnet® snugs around the player's head for an instant custom fit.
Sizes: SM, MD, LG, XL
Colors: Black (w/ Black Facemask), Matte Black (w/ Black Facemask), White (w/ Gray Facemask)
Authorized Supplier of Helmets to the NFL®
Virginia Tech Helmet Ratings™
Adult Football Helmet Ratings - May 2014
A total of 23 adult football helmet models that have been evaluated using the STAR evaluation system are included in the Virginia Tech Helmet Ratings™. All 23 helmets included in the ratings have been made available to consumers at the time of publication. Helmets with more stars provide a reduction in concussion risk compared to helmets with less stars. Group rankings are differentiated by pre-determined thresholds.
Note:
Any player in any sport can sustain a head injury with even the very best head protection. This analysis is based on data trends and probabilities, and therefore a specific person's risk may vary. This variation is likely dominated by genetic differences, health history, and impact factors such as muscle activation.

Fit. Comfort. Protection.
 
Xenith football helmets feature Xenith Adaptive Head Protection®, a system of patented technologies designed to provide superior fit and to minimize the sudden movement of the head during impact. Hundreds of thousands of players at all levels, including youth, high school, college, and the NFL wear Xenith helmets. The same protection technology is also featured in their XFlexion shoulder pads.  
 
Xenith's X2, X2E, and EPIC Varsity football helmets earned 5-STARS (the highest possible) from the Virginia Tech Star Helmet Ratings™ system. Being an authorized supplier of helmets to the NFL, Xenith is committed to education. With key partners, Xenith connects with players, coaches, families, and administrators to promote safety in the game of football.
 
We are pleased to carry Xenith football helmets, facemasks, shoulder pads, and accessories.