Description
Size Guide
Schutt
Schutt AiR XP Pro VTD Football Helmet
Schutt's AiR XP Pro VTD Football Helmet is the helmet that defies definition. Fusing modern with traditional, the AiR XP Pro VTD offers up the modern technology and performance of TPU Cushioning, in a classic, traditional helmet shell. The "VTD" stands for Variable Thickness and Durometer. The TPU Cushioning contains durometers that are specifically designed to absorb both high-velocity and low-velocity impacts.
The last remaining traditional standoff helmet, the AiR XP Pro still delivers superior impact absorption and a dynamic fit. A responsive, lightweight helmet for today's speed athlete.
• Helmet and chinstrap only- no facemask
Sizes: M, L, XL
Colors: Black, Maroon, Navy, Royal Blue, Scarlet, Silver, White
Virginia Tech Helmet Ratings™
Adult Football Helmet Ratings - May 2014
A total of 23 adult football helmet models that have been evaluated using the STAR evaluation system are included in the Virginia Tech Helmet Ratings™. All 23 helmets included in the ratings have been made available to consumers at the time of publication. Helmets with more stars provide a reduction in concussion risk compared to helmets with less stars. Group rankings are differentiated by pre-determined thresholds.
Note:
Any player in any sport can sustain a head injury with even the very best head protection. This analysis is based on data trends and probabilities, and therefore a specific person's risk may vary. This variation is likely dominated by genetic differences, health history, and impact factors such as muscle activation.
Helmet Sizing
How To Get The Right Sized Helmet
This Chart will assist in finding a helmet with the proper size. These sizes are an approximation as some brands may differ slightly because of materials and design.
Small
6 - 6 1/2
19 - 20 1/2
Medium
6 1/2 - 7
20 1/2 - 22
Large
7 - 7 1/2
22 - 23 1/2
XLarge
7 1/2 - 8
23 1/2 - 25
XSmall
6 3/8 - 6 5/8
20" - 20 3/4"
Small
6 5/8 - 6 7/8
20 3/4" - 21 1/2"
Medium
6 7/8 - 7 1/8
21 1/2" - 22 1/4"
Large
7 1/8 - 7 3/8
22 1/4" - 23"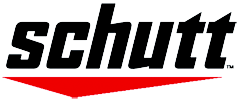 Schutt provides quality football equipment. We carry a wide selection of Schutt football equipment, including adult football helmets, youth football helmets, adult football shoulder pads, youth football shoulder pads, DNA Pro Plus football helmets and ION 4D football helmets.
Customers who viewed this also viewed these