Description
Reviews
Size Guide
Size Guide Video
Warnings
Schutt
Schutt Youth 2014 Recruit Hybrid Football Helmet

Helmet and Chinstrap Only. Facemask not included.

Hybrid TPU /D3O Cushioning
A powerful combination of TPU Cushioning and patented D3O technology means you get the advanced technology of TPU in the front and crown - and the protection of D3O in the sides and back - all in the same helmet.
TPU Cushioning
Schutt's patented cushioning system is the most advanced impact absorption system in the game. TPU Cushioning absorbs impact more consistently across a wider range of temperatures than traditional foam padding and other padding systems whose performance deteriorates in temperature extremes. TPU Cushioning gives you better impact absorption, better heat management and better hygienics.
New D3O Energy Lock Technology
Lightweight, Flexible, Breathable D3O is a patented, lightweight impact protection technology with a unique molecular structure allowing it to remain soft and flexible in its natural state. Upon impact, however, the molecules in D3O lock together to absorb and disperse impact energy, reducing the force transmitted and instantly returning to its natural state.
Large Standoff Shell
A helmet's standoff is the space between the player's head and the helmet shell. Large standoff helmets allow us to insert thicker TPU cushioning, which means greater impact absorption and better performance. All Schutt youth helmets, except the AiR XP family of helmets and the AiR Standard III, are large standoff helmets.
New Comfort Liner
This new liner now features increased surface coverage and additional comfort foam inside the liner. These changes add durability and a soft, pillow-like feeling to the helmet.

Sizes: SM.
Colors: MAROON.
Helmet Sizing
How To Get The Right Sized Helmet
This Chart will assist in finding a helmet with the proper size. These sizes are an approximation as some brands may differ slightly because of materials and design.
Small
6 - 6 1/2
19 - 20 1/2
Medium
6 1/2 - 7
20 1/2 - 22
Large
7 - 7 1/2
22 - 23 1/2
XLarge
7 1/2 - 8
23 1/2 - 25
XSmall
6 3/8 - 6 5/8
20" - 20 3/4"
Small
6 5/8 - 6 7/8
20 3/4" - 21 1/2"
Medium
6 7/8 - 7 1/8
21 1/2" - 22 1/4"
Large
7 1/8 - 7 3/8
22 1/4" - 23"
This helmet and/or faceguard is intended for use only in connection with the particular sport indicated. Proper use of the Equipment requires your compliance with all instructions, warnings, and notifications provided by the manufacturer of the Equipment.

WARNING: Do not use this Equipment if it is cracked or deformed; or if the material, coating, or interior padding is deteriorated. Severe head or neck injury, including paralysis or death may occur to you despite using this Equipment. Do not use this Equipment to butt, ram or spear an opposing player. This is in violation of the Sport rules and such use can result in severe injury to you and possible injury to your opponent. Contact in the Sport may result in concussion or brain injury, which no Equipment can prevent. Symptoms may include: loss of consciousness or memory, dizziness, headache, nausea, or confusion. If you experience any of these symptoms, immediately stop play and report them to your coach, trainer, and parents. Do not return to a game until all symptoms are gone and you receive medical clearance. Ignoring this warning may lead to serious or fatal brain injury. Faceguards do not comply with NOCSAE requirements unless properly attached to a helmet specifically listed by the manufacturer.

USE THIS EQUIPMENT AT YOUR OWN RISK. NO EQUIPMENT CAN PREVENT ALL HEAD OR ANY NECK INJURIES A PLAYER MIGHT RECEIVE WHILE PARTICIPATING IN THE SPORT. TO AVOID THESE RISKS, DO NOT ENGAGE IN THE SPORT.

ALL EQUIPMENT IS PROVIDED TO YOU ON AN "AS IS" AND "AS AVAILABLE" BASIS. TEAM EXPRESS DISTRIBUTING, LLC (TEAM EXPRESS) MAKES NO REPRESENTATIONS OR WARRANTIES OF ANY KIND, EITHER EXPRESS OR IMPLIED, AS TO THE EQUIPMENT. TO THE FULLEST EXTENT ALLOWED BY LAW, TEAM EXPRESS DISCLAIMS ALL WARRANTIES, WHETHER EXPRESS, IMPLIED, STATUTORY, OR OTHERWISE, INCLUDING BUT NOT LIMITED TO ANY IMPLIED WARRANTY OF MERCHANTABILITY, FITNESS FOR A PARTICULAR PURPOSE, TITLE, OR NON-INFRINGEMENT.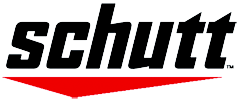 Schutt provides quality football equipment. We carry a wide selection of Schutt football equipment, including adult football helmets, youth football helmets, adult football shoulder pads, youth football shoulder pads, DNA Pro Plus football helmets and ION 4D football helmets.