Baden Perfection 15-0 Volleyball

• Baden's top-of-the-line leather game ball.
• Top-grade, full-grain, pre-sorted leather.
• Stealth Soft-Valve System™.
• NFHS Approved.
• Official Court Ball of the AVCA.

Colors: BLACK/WHITE, BLACK/WHITE/RED, BLACK/YELLOW/WHITE, BLUE/GRAY/WHITE, DARK GREEN/WHITE, MAROON/WHITE, MAROON/YELLOW/WHITE, NAVY/WHITE, NAVY/WHITE/GRAY, ORANGE/BLACK/WHITE, PINK, PURPLE/WHITE, RED/WHITE/BLUE, ROYAL/WHITE, SCARLET/WHITE, SCARLET/WHITE/GRAY.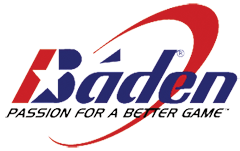 Baden provides quality softball equipment, baseball equipment, football equipment and basketball equipment. We carry a wide selection of Baden equipment, including baseballs, softballs, basketballs, footballs, baseball bats and softball bats.