Description
Reviews
Blazer Athletics
Blazer 8" Long JumpTake Off Board

Manufactured from laminated wood. Sealed, primed and finished with a white enamel paint. For high school and collegiate use. Meets rule book specifications.

Weight: 20 lbs.
Dimensions: 2 1⁄2" x 8" x 48".
Color: White only.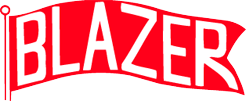 Blazer Athletics provides quality track and field equipment for youth and adults. We carry a wide selection of Blazer Athletics track and field equipment, including starting blocks, starter's pistol blanks, long jump boards, hurdles, high jump equipment and more.