Description
Blazer Athletics
Blazer Track Judges Stand

Room for 10 sitting or 20 standing people. Five rows of 48" long steps. Handrail for top three levels. Rail support along the back for safety. Red enamel finish, with galvanized seats, footrests, and backrest. 8" diameter wheels for easy transportation.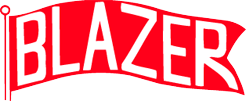 Blazer Athletics provides quality track and field equipment for youth and adults. We carry a wide selection of Blazer Athletics track and field equipment, including starting blocks, starter's pistol blanks, long jump boards, hurdles, high jump equipment and more.
Customers who viewed this also viewed these