Description
Blazer Athletics
Blazer Stainless Steel Long Jump Tray with Lid

Laminated wood board with 4" wide indicator board. 16-guage stainless steel with 1" square-tubing frame. Six leveling bolts level board with runway. Indicator board is for plasticine application. Boards must be removed when not in use. Indicator board identifies faults. 12-guage steel lid is provided to be placed in tray when boards are removed for storage.

Weight: 79 lbs.
Dimensions: 55" x 14" x 5".
Color: White Stainless steel.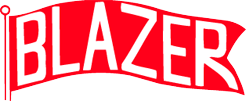 Blazer Athletics provides quality track and field equipment for youth and adults. We carry a wide selection of Blazer Athletics track and field equipment, including starting blocks, starter's pistol blanks, long jump boards, hurdles, high jump equipment and more.
Customers who viewed this also viewed these