Description
Reviews
Size Guide
Size Guide Video
Schutt
Schutt AiR Maxx Flex All Purpose Youth Football Shoulder Pads

The Schutt AiR Maxx Flex All Purpose Youth Football Shoulder Pads feature the famous TPU cushioning that the best Schutt helmets in the industry use. They give all the protection you need and the vital, lightweight motion control that gives you an edge.

• Thermoplastic Urethane (TPU) padding positioned over the shoulders and in front of the arch to absorb impact
• Designed for Youth to Junior High players in any position
• Stainless steel hardware and 3-point-belt for durability and fit
• High-impact perforated EVA foam and 7mm arch vent holes
• Every arch contains ports for accessory attachment
• Lace-up front for customized fit every game

Sizes: XS
Allows Free Movement
Comfortable
Excellent Protection
Fits Very Well
Great Protection
Lightweight
Defensive Backs
Game Day
Running Backs
Comments about Schutt AiR Maxx Flex All Purpose Youth Football Shoulder Pads:
A very well built pad with lots of protection at a good weight ratio. The only knock is the buckle straps are hard to undue with a uniform on. They are also long with no place to secure the tail end of the strap.
2X-Large
X-Large
21 - 22"
3X-Large
2X-Large
22 - 23"
4X-Large
3X-Large
23 - 24"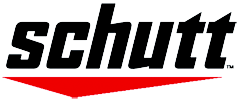 Schutt provides quality football equipment. We carry a wide selection of Schutt football equipment, including adult football helmets, youth football helmets, adult football shoulder pads, youth football shoulder pads, DNA Pro Plus football helmets and ION 4D football helmets.