Adams D-Ring Hook-Up Chinstrap (SZ50)

Four-point D-ring hook-up. Plastic cup lined with 1/4" vinyl padding. Nylon strap.

Colors: Black, Royal, Gold, Dark Green, Kelly, Maroon, Navy, Orange, Purple, Scarlet, White.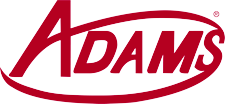 Adams provides quality equipment for baseball, softball and football players. We carry a wide selection of Adams sporting goods, including athletic belts, braces, pads and field equipment at affordable prices.