Description
Others In Series
Valle Eagle Training Gloves
Valle Eagle Series White KK 4-Finger Semi-Flat Training Glove

The Eagle KK 4 Finger combines the great design of a semi-flat style training glove that promotes the use during practice time of using two hands, BUT the Eagle KK 4 Finger also gives the player the ability to catch the ball with one hand for the backhanded grounder or forward hand grounder. This glove is all leather, extremely flexible so it simulates the feeling of catching a ball with your "bare hand", but has the leather and padding for protection. The soft leather on the palm gives a great feeling to the player and the glove having 4 fingers gives the easy flex you want when fielding the ball and has the same feeling of your game glove in that each finger has it's own stall and is separate from the other fingers, as apposed to a pancake style training "mitt". This training glove is excellent for "any" age player from tee ball to the professional ballplayer. Many pro players and college players purchase these gloves for their training. Make your training time the most productive it can be with the use of the Valle Eagle Training Gloves Series.

Glove Specifications
• Quality leather.
• Semi-Flat design.
• Reinforces using two hands.
• Can also catch ball using one hand.
• Right Throw only.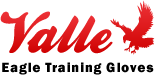 Valle Eagle Training Gloves are designed to help players develop quicker, soft hands, reinforce proper fielding technique, and improve coordination and good ball transfer. Baseball and softball players of all levels can benefit. Younger players may use the mitts for games. More experienced players and pros use Valle Eagle Training Gloves to hone their skills in training or in the bullpen. In fact, Valle is the fastest growing line of training mitts in the pros. The company is owned and operated by John Valle. Valle is a former professional baseball player and two-time All-Star who learned early on the importance of being a FUNdamentally sound player, working hard, and giving 100%.