Description
Size Guide
Others In Series
Valle Eagle Training Gloves
Valle Eagle Series 27 Thumb Support Baseball Catcher's Training Mitt

Brand new design with a built in thumb support to help avoid the problem of a catcher have their thumb injured which is one of the most common problems that catcher's at all levels deal with. This product has been used and tested by multiple MLB organizations over the last 4 years and the response has been tremendous. If your a catcher and have had to deal with having your thumb jammed, you need to get a Valle Eagle 27 with Thumb Support. This training glove with not only help you to catch the ball with better mechanics because of the small size, but will also help avoid injury to your thumb. This mitt along with the built in thumb support has a velcro lock down system to help give the perfect fit to how tight you want the shell of the mitt to your thumb.

Quality built to last catcher's mitt, with small size pocket to promote good catching habits for catcher's as they warm up pitcher's and use in all practice times. Catcher's need to have good ball transfer and focus when catching. This mitt will help the high school to pro player improve the key skills of being a good receiver.

Glove Specifications
• Quality leather.
• Built in Thumb Support.
• Velcro lock down system.
• Right Throw only.

Need Help Choosing The Right Size Glove?
Click Here for a Glove Sizing Guide.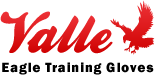 Valle Eagle Training Gloves are designed to help players develop quicker, soft hands, reinforce proper fielding technique, and improve coordination and good ball transfer. Baseball and softball players of all levels can benefit. Younger players may use the mitts for games. More experienced players and pros use Valle Eagle Training Gloves to hone their skills in training or in the bullpen. In fact, Valle is the fastest growing line of training mitts in the pros. The company is owned and operated by John Valle. Valle is a former professional baseball player and two-time All-Star who learned early on the importance of being a FUNdamentally sound player, working hard, and giving 100%.