Crossover Symmetry Crossover Cords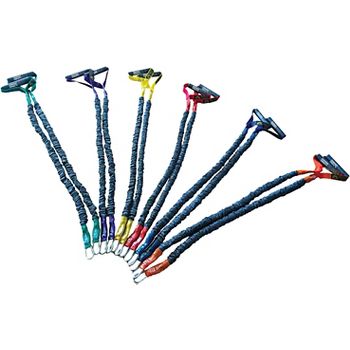 Crossover Symmetry Crossover Cords


Crossover Symmetry Crossover Cords Crossover Cords are the best resistance cords available on the market today. Although they can be used for countless exercises, they are custom made for the Crossover Symmetry and IRON SCAP exercises. The Cross
more...
This Product is shipped from the manufacturer.
Shipping charge: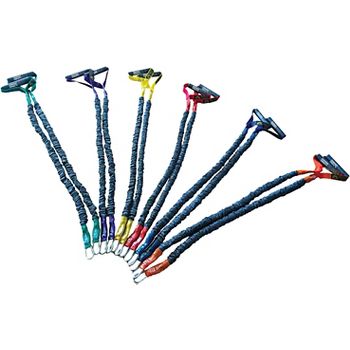 Description
Reviews
Watch Video
Crossover Symmetry
Crossover Symmetry Crossover Cords

Crossover Cords are the best resistance cords available on the market today. Although they can be used for countless exercises, they are custom made for the Crossover Symmetry and IRON SCAP exercises. The Crossover Symmetry and IRON SCAP protocols call for use of a heavy set and light set of Crossover Cords based on the exercise and strength/skill level of the athlete.

The Crossover Cords feature a unique handle to carabiner configuration allowing for easy setup on a chain link fence or using the CS Door Belts™, Crossover SRS™, or CS Wall Mounts™. The full length nylon sleeve protects the high grade latex tubing from UV rays, over-stretching and premature cord breakage resulting in an outdoor resistance cord that will last up to 5 times longer than unsleeved latex tubing. Made in America. Crossover Cords are sold in pairs. Does not include exercise instruction.

Features
• Made in America
• Available in 5 resistances
• Safety sleeve protects user in case of cord breakage
• Last up to 5 times longer
• Carabiner allows for set up anywhere
• Durable UV resistant thermo-shrink plastic junctions

Available In 5 Resistances:
• Green - Super Light (3 lbs.)
• Purple - Light (7 lbs.)
• Yellow - Medium (10 lbs.)
• Red - Heavy (15 lbs.)
• Blue - Super Heavy (25 lbs.)


Comfortable
Improves Performance
Strong
Game Day
Practice
Recreation
Comments about Crossover Symmetry Crossover Cords:
Works as advertised. Well built.
Comments about Crossover Symmetry Crossover Cords:
Has done a great job of increasing elbow and shoulder stability and alleviating arm soreness, when used with exercises recommended by a Physical Therapist. I plan on using the cross over cords this summer with our whole pitching staff.
Crossover Symmetry provides quality training equipment for baseball, football and softball players. We carry a wide selection of Crossover Symmetry training and throwing equipment, including packages and crossover cords designed to help pitchers and throwers.