Under Armour Women's T-Shirt Fabric Wide Headband

Under Armour's lightweight, cotton headband is made from T-shirt material. It's soft, wide, and the perfect headband for any sports practice.

• Fabric: 57% cotton, 38% polyester, 5% Spandex

Colors: AQUA/BLUE, BLACK, PURPLE, PURPLE/BLUE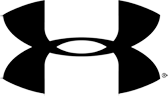 Under Armour provides quality sports equipment, sports apparel and sports accessories. We carry a wide selection of Under Armour athletic equipment, athletic apparel and athletic accessories, including baseball equipment, football equipment, softball equipment, soccer equipment and more.