Under Armour Rumble Sunglasses

UA Rumble Sunglasses sport their largest frame and deliver maximum coverage that's comfortable and ultra-sturdy - so they won't slip. ArmourSight® lenses deliver 20% more undistorted peripheral vision, and are 10X stronger than ordinary polycarbonate lenses, for greater visibility and durability. Ultra-light ArmourFusion® combines titanium and Grilamid® for maximum impact resistance. Adjustable nosepad for a customized comfort fit. All Under Armour® Performance Eyewear lenses block 100% of UVA, UVB, and UVC rays. Imported.

Frame/ Lens
Satin Black/ Gray Polarized w/ Blue Multiflection™ ($139.99)
Satin Black/ Gray ($89.99)
Shiny Black/ Gray Polarized w/ Multiflection™ ($124.99)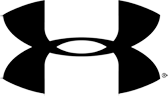 Under Armour provides quality sports equipment, sports apparel and sports accessories. We carry a wide selection of Under Armour athletic equipment, athletic apparel and athletic accessories, including baseball equipment, football equipment, softball equipment, soccer equipment and more.